The Photobucket application on Yahoo! Mail that launches today, June 5th 2009, allows existing Photobucket users to log into their Photobucket account directly from Yahoo! Mail, and choose any number of photos to share with their friends and family by Yahoo! Mail.
How to get access to Photobucket's Yahoo! Mail app?
Go here: http://overview.mail.yahoo.com/applications. Enter your Yahoo! email address. Apparently that's the only way to get access. We understand you also have to upgrade to the new Yahoo! email to be app-compatible.
The best thing about the application is that when photos are included in the email, they are not sent as attachments. (Sending photos as attachments slows down email transmission and forces the recipient to figure out how to open and view the attachments.)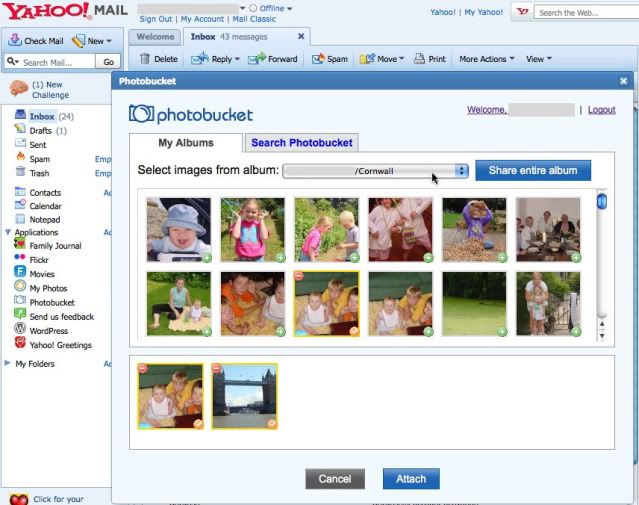 Share with Thumbnails and Links
With the Photobucket application for Yahoo! Mail, recipients receive a thumbnail version of the photo, and a link to the full size photo.  Clicking the link takes the recipient directly to the photo on Photobucket's site, where they can view, share and, if they want, comment on the photo. A very simple and friendly experience that anyone, even the lowest tech email user, can enjoy!
Search Photobucket and Add to Yahoo! Mail
In addition to adding photos from personal Photobucket albums, Yahoo! Mail users can search Photobucket's huge repository of varied photo content to find a photo that perfectly suits a mood or subject.  And not just photos! Photobucket has more than 7.5 billion photos and images of all types – funny images, quotes and sayings, animated GIFs, drawings, artwork, celebrity photos, and more. 
With the Photobucket application for Yahoo! Mail, a Yahoo! Mail user doesn't have to be a Photobucket user to search and share photos and images by Yahoo! Mail. They can just install the application, and browse and share for free.
What's next? At Photobucket we are committed to improving and enhancing our entire product set based on our user feedback and experience. We're looking forward to seeing how Photobucket's application for Yahoo! Mail is used, how users respond, and we'll look for ways to transparently expose our rich and interesting feature set such as photo editing, scrapbooking and group albums, to Yahoo! Mail users.