We're pretty sure we've enjoyed getting this feature ready more than anything we've done at Photobucket all year. Heck, maybe ever!
Album themes
What's a theme? It's a 'skin' that you can apply to your entire personal Photobucket album — and it customizes the background, colors and borders around your photos and videos.
Try out themes today
To try out themes, go to: http://photobucket.com/albumthemes
Or, click "album themes" up at the top of your album. That will take you to the themes selection page.

We are shipping with close to 500 different themes for you to try out. Not enough? Then you can make your own. And if you think it's cool, submit it to be shared with other Photobucket users.
Themes are for personal albums
You can add a theme to your personal photo and video album. Every folder inside your album can have a different theme.
When you share your album with friends and family, the theme goes along with it.
The theme will also appear when you click on an image in "full view."
Themes are for group albums
You can add a theme to any group album you own too.
So switch up your group to reflect your school logo, school colors, team banner or motto. Whatever you like.
Hundreds of themes to choose from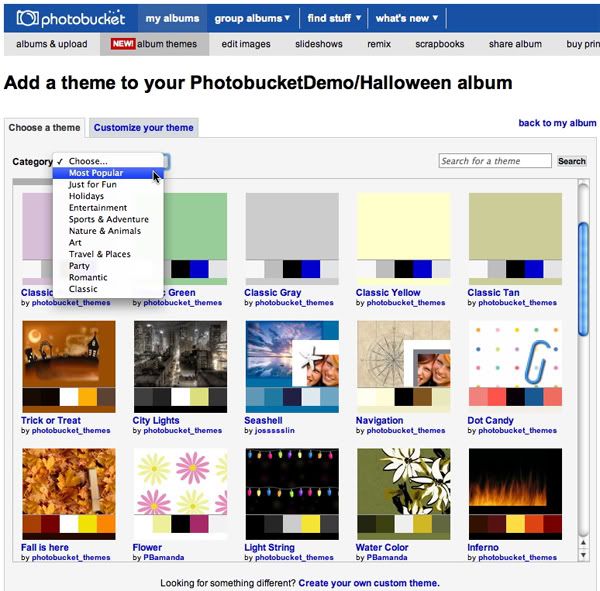 Create your own theme
If you don't like the themes we've made, change them to suit yourself, or make your own. You can adjust colors, background image, and the borders around the photos and videos.
Change your palette
Change your border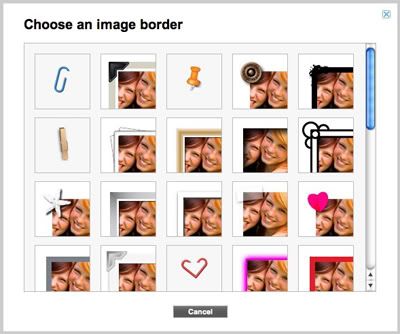 Submit and share your theme
If you've made your own cool theme, then submit it for others to use. It's good community spirit! Just click on "Submit this Theme" in the Theme Selector.
As always, we welcome your feedback. Write to us at pbfeedback(at)photobucket.com.