We're so excited about this announcement. We're all huge TiVo® fans over here at Photobucket, and now you can view all your Photobucket pics right on your TV screen through TiVo.
TiVo announced today the launch of their photo service, with Photobucket as an important part of that launch. Go here on the TiVo site for more details: http://tivo.com/photobucket.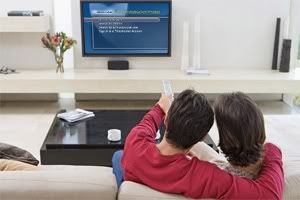 See your own Photobucket photos on your TV
Anyone who owns a TiVo Series3™ and TiVo HD box will be able to login to their Photobucket albums and see all their photos in high resolution. It's a great way for you to share your photos with friends and families from the comfort of your living room couch. We've tried it out ourselves at Photobucket, and it really works!
See your friends' Photobucket photos on your TV
And if your family members have TiVo Series3 or TiVo HD, tell them your username on Photobucket and they'll be able to see your public photos too. It's a great way to have far distant friends and families enjoy your photos — including those who don't always get to see your photos on their computer.
Search Photobucket's huge library of photos
And finally, you can enter a search term into the TiVo using their famous 'peanut shaped' remote, and bring up whatever results come back from Photobucket's billions of photos. Endless hours of amusement. Guaranteed.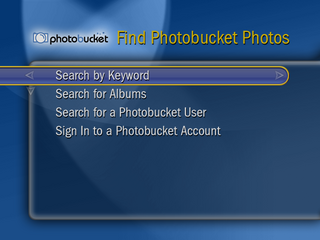 Special offer just for Photobucket
So if this is the service that tips you over to get a TiVo, they've put together a special offer just for Photobucket users. Go to http://www.tivo.com/photobucketoffer for all the details. This special offer is administered only by TiVo, so they'll be able to give you all the help you need.
Go here to read more about this announcement on the TiVo site: http://tivo.com/photobucket.
Go here to read our FAQs on the Photobucket site:
http://photobucket.com/faq?catID=58&catSelected=f&topicID=591