Our brand new album organizer has to have been the number one requested feature from our most active Photobucket users. So now it's here.
So for all you Photobucket users with thousands of photos and videos in your albums, and a bit of a muddle going on with how they are categorized, this one's for you.
Simply click in the top right corner of your album on the "organize" link: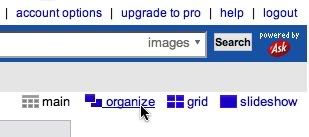 You'll be launched into a special window powered by Flash.
(You may be prompted to upgrade to the latest Flash version. Now
would be a good time to do that. It's pretty simple and a good thing to
do.)
Some of the highlights of the new photo and video album organizer:
Drag and drop to organize photos and videos between albums
Drag and drop to re-arrange photos and videos within albums — so the photos and videos are just in the order you want to share them
Sort the way you want, by newest first, oldest first, alphabetical by title and alphabetical by filename
Hold down the Ctrl-key (Windows) or Cmd-key (Macintosh) to select
more than one photo or video at a time, and then use drag and drop if
you want
Use the area on the right to add titles and descriptions "in bulk" really quickly
Use the slider bar in the right to increase, or decrease, the size of the thumbs.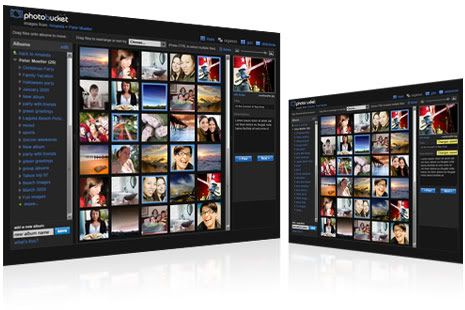 For those of us who've been at Photobucket a long time, with quite
some considerably disorganized albums to clean up (errmm, like most of
us at Photobucket), this is a great feature. There's no time like now
to get organized before the holidays. Hope you enjoy the new feature.
As always, we welcome your feedback. Write to us at pbfeedback(at)photobucket.com.