We love this. A free Firefox plug-in for Photobucket.  Any image you right-click on can be instantly uploaded to Photobucket.
Here's how you get it it:
1. Go to http://addons.mozilla.org/addon/10035
2. Download the plug-in and answer all the various questions.
3. You'll be asked to re-start Firefox.
Then, look at any image on the Web. Right click. You'll get an "Upload to Photobucket" added to the pop up menu. Fun!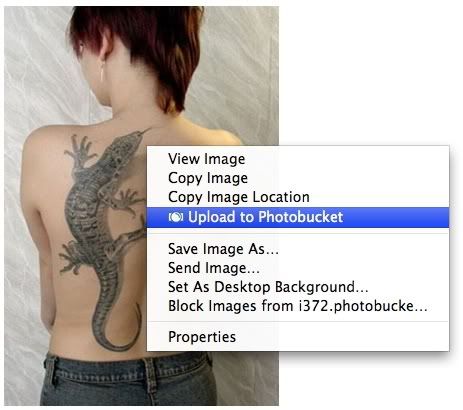 Once you've uploaded, you'll get an opportunity to instantly go to check it out on Photobucket:
Some usage notes
When you first install the plug-in, you'll be asked to log into the Photobucket account you want to use with the plug-in.
Naturally any photo that you upload must comply with Photobucket's Terms of Service.