We know you're all very busy. But it's easy to make a wonderful, personalized card for Mom on Photobucket. Plus, it's free for Mothers Day! We bet it'll take you no more than 15 minutes.
Plus! We'll give you 25% off a book if you want to go the whole way and do something super special. That'll take more than 15 minutes (maybe an hour or so), but we promise you'll love the results and it'll be fun!
Here's how to make your FREE Mothers Day card:
1. Click on "scrapbooks" in the grey bar at the top of your album, or go here: http://photobucket.com/scrapbooks
2.  Choose a card theme.
3.  Click on "Get Photos" to get your Photobucket photos. Drag and drop your favorite pics of Mom. Mom and you. Mom and Dad. Whatever.
4. Customize the message on the inside.
5. Click on Order Prints at the top and go through the check out procedure. You may have to make an account and so forth if you don't already have one.  Don't worry. The coupon code for the FREE card will be used at the end (It's mom2009.)
Here are offer details: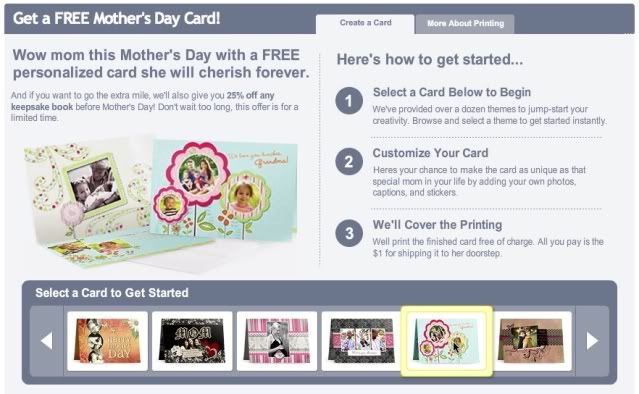 Here are some of the wonderful cards you can make for free!: