Many, many good wishes for 2008 from Photobucket. We hope you all had a happy and restful holiday season.
We've had a busy couple of weeks here, keeping the Photobucket servers spinning over the holidays with all your photos and videos. It's always a busy time for us.
And now we are back to preparing for lots of good new stuff for the Photobucket site.
So we can tell you when new features are coming online, be sure to keep your email address up to date in your account options. We promise we won't bombard you with emails! We'll just let you know when there's something new we think you'll want to know about.
Check out account options to make sure you're all up to date:
(1) Edit your information to update your email address, change your password, or upgrade your account to Pro.
(2) Review your usage in the Account Dashboard.
(3) Edit your Album Settings to adjust how your album is viewed, and decide which links you want to show up.
(4) Your Mobile Settings provides the email address unique to your album. Use this email address to send photos direct to your album from your email system, or from your mobile phone.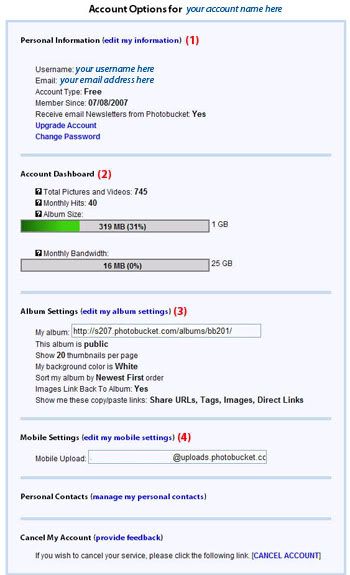 For more information on any of these features, visit this Frequently Asked Questions area on the Photobucket site: http://photobucket.com/faq?catID=35