Jokes starting to fall flat these days? Are likes on your Instagram as elusive as parental love? Feeling a bit less relevant all around?
I'VE GOT THE REMEDY FOR YOU
Check out this overview on hashtags and you'll be able to #wtf, #yolo, and #lol in no time! Your jokes will find relevance again, your Instagram will be flooded with likes, and you'll #wreckingball right back into your parents' loving arms!
A hashtag is just about any word or phrase with the '#' symbol immediately in front of it (no spaces or special characters), turning that word into a clickable link. A hashtag is essentially a way of categorizing a status update, tweet, image, or whatever you're posting online. Think of it as a quick and easy way to file your social media (Facebook, Instagram, Twitter, etc.) interactions away into different categories.
For example, let's say your Facebook status looks a little like this: "I wish I had real friends who wouldn't skip all of my interpretive dance shows. #sad"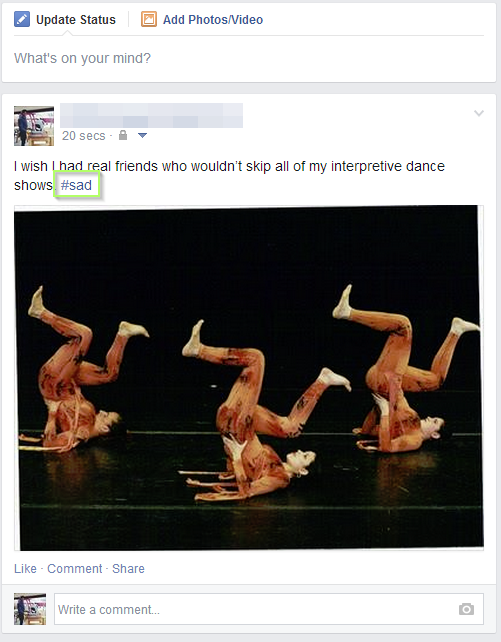 This status is now "categorized" as, or tagged with, #sad, and the hashtag has now become a clickable link. If you were to click on that hashtag, or search for '#sad', you'd be taken to a page displaying all other people who have also used the #sad hashtag.
You could also add multiple hashtags to gain more attention, or to make a point, to enter a contest, whatever! For example, let's say I've turned my attitude around, and I want as many people as possible to attend my next event:
"Come watch my interpretive dance routine tonight, re-envisioning what it means to be a #vegan in a post-industrial society! #art #dance #denver #PETA #iloveyoudad #TGIF"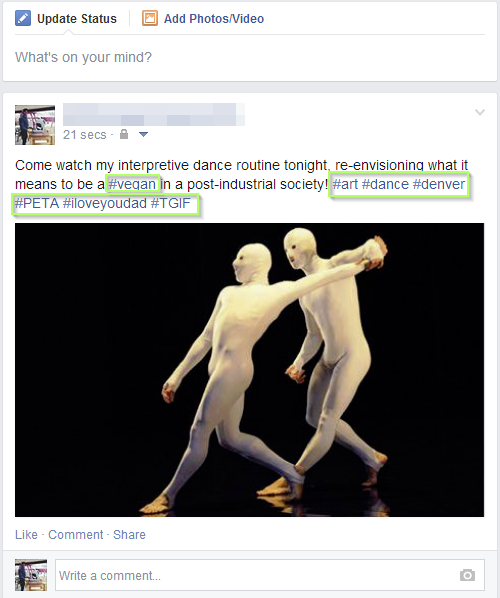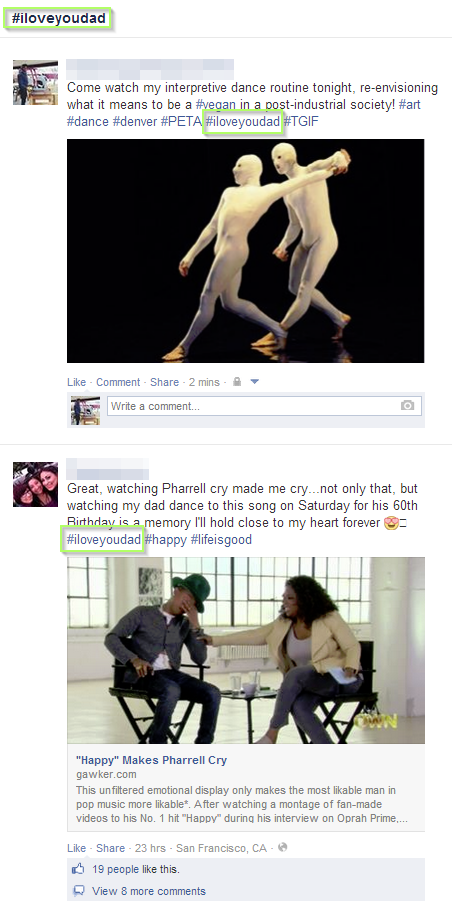 Get it? So ideally, anyone searching those tags will see your post, and be blown away by a synergetic explosion of modern art and academia – thus blowing up your likes on Facebook, Instagram, and the like!
#Hashtags + Photobucket
So what does this have to do with Photobucket? Well, you can utilize hashtags on Photobucket in two pretty swanky ways.
Claim Your Personalized Hashtag
If you missed it, Photobucket users can claim their own personalized hashtag on Photobucket. Adding your personalized hashtag to new Twitter or Instagram posts will automagically transfer the image and description into your Photobucket account.
Actually, anyone can use your custom hashtag. There's a lot of great uses for this. For example, let's say you're throwing your hotly anticipated Epic Annual Holiday Bash 2014. Let your friends know that you've claimed the custom hashtag #pbEpicHolidayBash14, and that they should tag their posts with it. At the end of a raucous night, or more likely sometime the next afternoon, you can peruse an album full of #pbEpicHolidayBash14 memories shared by you and your friends.
Enter Photobucket #Hashtag Contests
We also hold regular #hashtag contests, which you may have seen in some of our emails (provided you weren't too hasty in deleting them). You don't have to have a custom hashtag to participate in these contests. Simply add the hashtag, called out in the email, to your Instagram posts or Tweets. This will enter your image into the contest as well as pull the image into the contest album. If you'd like to enter an image already within your Photobucket account, just add the hashtag to either the title or description.
I hope you learned some important stuff today. I know I sure did, like the hashtag #yolo is often used by those who are not actually taking advantage of the fact that #yolo.