Before you buy your holiday cards this year, be sure to check out the cards in Photobucket's store. Nice designs, and at a great price. Here's the "frosty the snowman" style. You can write whatever you like on the right side, with choices on colors and fonts.
There are winter-y, Christmas, and Hannukah styles to choose from: Click here to see them all.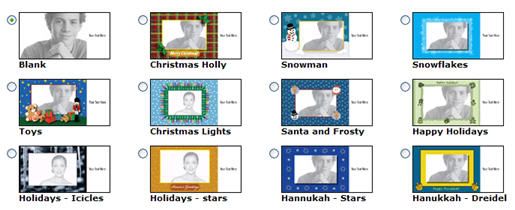 Right now, you can buy them in 4×8 photo cards. Later this week, the 5×7 folded cards will be coming online.
And the prices? Here they are:
Photo cards start at $0.99 for just one, and then go down to $.50 if you're ordering 200 or more. Take 20% off if you buy this week.
Folded cards start at $1.99 for a single card with envelope, going down to $1.50 if you're buying 200 or more, with envelopes. Take 20% off if you buy this week.
And they're all printed on the very best, top-of-the-line digital presses. We don't think you'll be disappointed in the results.
Comparison shoppers: be sure to check out the shipping fees
Our prices at our QOOP-powered store are absolutely competitive. But so are our shipping prices. When you're checking around for the best prices for your holiday cards this year, please don't forget to compare shipping costs. They can be dramatically different from store to store.