Things have been pretty busy in the world of Photobucket and we've worked to make a number of significant changes that we hope will really support our users. That's not an easy job with around 22 million users, trust us.
But still! Wow!
Some cool stuff that we hope you'll like.
First off, you should notice that the upload images function is quite different when you log in to your Photobucket account.

This is not only a cosmetic change but a functional one that we hope will make our users pretty happy.
Uploading images or videos is not only faster, but there are a lot more controls associated with how images will be resized.
Don't forget to check it out after you sign in to your Photobucket account.
The next big change involves how we organize Bucket Features. Widgets.
That's right! Bucket Features are now Photobucket's Widgets.
Organized in a way that makes it easier to create image slideshows, collages, stamps or strips in a variety of sizes.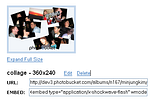 As always, we're including the tools to make it easier to share and embed these Photobucket widgets into almost any webpage. It works with Myspace, Xanga, Blogger, Blogspot, Piczo, GaiaOnline, and the list goes on and on and on.
Some additional changes include tweaks to our Search functionality, Make Mobile functions, and ability to skin the Photobucket Video Player with your very own images. We think that's pretty pimp.
We hope you'll try the new features out. Send us your feedback and let us know what you think!
Additional information on our the widgets and how it works after the jump.
WHAT IS A WIDGET?!?! Or Where did Bucket Features Go?
Some of you may have noticed that we've made a few changes with the Photobucket website lately. One of the latest upgrades that we're proud of is the Widgets page.
The term "Bucket Feature(s)" is now WIDGETs.
A WIDGET is a dynamic way for you to share your Photobucket images on other websites or profile pages. There are four styles of WIDGETS on Photobucket: stamp, strip, slideshow, and collage.
WIDGETS can be found by clicking the far left button near the bottom of the upload images/videos page.
Bucket Features being changed to WIDGETS
• Find Widgets under the upload panel in your account (must be logged in first to access this feature).
• To create a widget, first select photos from the top image bar and add them to your widget. To remove a photo from a widget simply click the red X button on the bottom image bar. You can also drag and drop images to and from your widget.
• You can customize a new widget by choosing a widget "Style" and "Size".
• When you are done assembling your widget, simply click the "Save Widget!" button on the right side of the screen to finalize your changes and make it active within your account.
• To share your Photobucket widget you can share the direct link (URL) to the widget or you can publish the widget on a webpage, blog, or social network site by copying and pasting the EMBED information.
• Free account holders will be limited to 10 different images per widget while Pro account holders will have this number increased to 50.
• The "All widgets for (username)" page is where you can view all of the widgets that have been created and saved.
• Special Considerations and Known Issues
i. The "collage" widget will create a random pattern out of the selected images. The image placement is randomized and limited to display only a maximum of 15 images at a time. This is not an editable feature.
ii. Bucket Features that were created prior to today's Photobucket upgrade will have edit functions disabled. You will, however, be able to delete a previously created Photobucket Stamp, Strip, Slideshow, or Collage. (*Deletion is permanent, no retrieval).