We've partnered with the leading avatar site, Meez, to allow you to create, customize and share your 3D ID right from your Photobucket album. We know you are all creative, social and fun loving so we've partnered up Meez. You can make clever, funny, and expressive avatars to share with the world right from within Photobucket!
How? Look for this button in your Photobucket album to get started!
The Meez 3D avatars can be customized and animated in a thousand ways — face, nose, lips, hair, clothing, pets, costumes, backgrounds — too many ways to list here! Safe to say, we had a blast playing with them at Photobucket.
Once you've created your Meez, you'll be able to save them directly to your Photobucket album. Then, share them with family, friends and the online world, just like you share all your pictures, videos, slideshows, and remixes. For details, check out this tutorial.

Click "More" below for the full walkthrough and press release.
How to create your Meez at Photobucket
1. After signing in to your Photobucket account, click on the Avatars button to proceed to http://www.photobucket.com/meez
2. Create your 3D avatars.
3. Customize with facial features, hair, wardrobe, accessories, animations, and background environment and lots more. Photobucket fans can even find Photobucket t-shirts and backgrounds. (We're all using them now!)
3. Save to your Photobucket album. 7 sizes are saved automatically:
Body Shot – 300×400 – Animated
Body Shot – 175X233 – Animated
Body Shot – 300×400 – Still
Body Shot – 175×260 – Still
Head shot – 100×100 – Still
Head shot – 66×66 – Still
Head shot – 48×48 – Still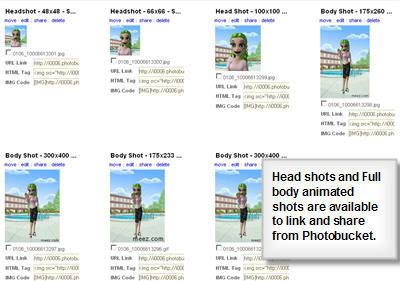 Official Press Release:
Photobucket Integrates 3D Avatar Building From Meez
Leading Mainstream Avatar Service Enables 40 Million Photobucket Users to Create, Save and Share Unique Digital Personas
SAN FRANCISCO, CA – (April 24, 2007) – Meez, the leading consumer avatar service, today announced a partnership with Photobucket, the world's largest personal media site, to fully integrate Meez's avatar-building service within the Photobucket site. This move enables Photobucket users to build, store and share customized 3D avatars as an additional form of online self-expression.
"Avatars are becoming a fixture on the social media scene as online users look for new ways to personalize their experience, and create a complete digital identity," noted Alex Welch, CEO of Photobucket. "Partnering with Meez brings sophisticated tools to our users so they can build and share customized 3D personas without leaving the Photobucket site. Meez makes the process simple, seamless and fun, while giving users thousands of options for creating an avatar that is unique to them."
Meez's avatar-building tools enable Photobucket users to create and customize their own personalized Meez avatar within the Photobucket site. Once completed, the avatar is automatically saved in seven different sizes and formats and dropped into their personal Photobucket album. Users can then share their Meez avatar with family, friends and the online world, just as they do with other personal media stored on Photobucket. The entire experience can be viewed at http://photobucket.com/meez.
The partnership also enables Meez.com users to seamlessly upload their Meez avatars directly to Photobucket, enabling them to store limitless variations of their Meez digital character in their Photobucket albums.
"With over one million registered Meez users, our rapid growth is continually fueled by partnerships with industry leaders such as Photobucket, who share our mission to provide consumers with rich and compelling options to create personalized content," said Sean Ryan, Meez CEO. "Meez emphasizes avatar portability. Our partnership with Photobucket gives our users a great alternative for posting their Meez avatars across the Web."
At Meez.com, users can custom-create their own unique 3D avatar in minutes, choosing from over 3,500 digital assets, including virtual clothing, accessories, hairstyles, tattoos, physical attributes, backgrounds, and 3D animations, giving users millions of different options for creating a Meez that expresses their personal style and passions. Users can also gear up with premium items and branded clothing such as virtual jerseys from Major League Baseball and the National Hockey League. Once created, users can export their Meez for posting on their online profiles, blogs, e-mail or IM accounts, or mobile phones.
About Meez
Meez provides sophisticated avatar services for the mainstream. At Meez.com, users can create and animate highly-customized 3D avatars that express their personal style and passions. Meez avatars can then be exported and used all over the Internet as a 3D I.D. The company has secured strategic partnerships with leading consumer and social media sites who have integrated Meez's avatar-building tools and services directly into their sites, including Glam.com, CBS Sportsline, PalTalk and Photobucket. Based in San Francisco, CA, and developed by Donnerwood Media, Meez is backed by Battery Ventures, Transcosmos Partners, Allen & Co., and other individual investors. For more information, visit: www.meez.com.
About Photobucket
Photobucket is the web's most popular creative hub, with more than 40 million users linking billions of personal photos, graphics, slideshows and videos daily to hundreds of thousands of web sites, including: MySpace, Facebook, Bebo, Friendster, eBay, Craigslist, Blogger and Xanga. In addition to linking content, Photobucket users share their personal digital media by email, instant messaging, and mobile devices.
Photobucket values creativity, ease of use and reliability, and is constantly investing in new services to enhance the user experience. The company launched a Web-based photo and video editing remix service in February 2007, powered by Adobe, Inc., which allows users to "mashup" photos, images, videos and music. It also offers dozens of slideshow styles for displaying photo and image content, and in March 2007, launched a new Video Uploader with built-in webcam support.
Every day over 7 million personal photos, graphics and videos are uploaded to Photobucket for sharing with family, friends and the online world. The company actively moderates content to create a safe environment for its users, partners and advertisers. Photobucket has offices in Palo Alto, California and Denver, Colorado and is located online at www.photobucket.com. For the latest feature announcements and news, please visit the Photobucket blog at http://blog.photobucket.com.