Upload to Group Albums from Your Mobile Phone
So this is cool. Imagine a Group Album for your vacation or travels. Or for any wanderings when you're out and about on the streets. Phone it into your Group Album!
Phone in a pic of a great pair of shoes you bought, a fabulous view
you saw, someone's strange hair-do while you're commuting to work, the
hot date you just met.
Click on the "Mobile Phone" button on the right of the Upload panel.
You'll see the unique email address associated with the Group Album.
Use that Group Album email address to phone your photo into the Album.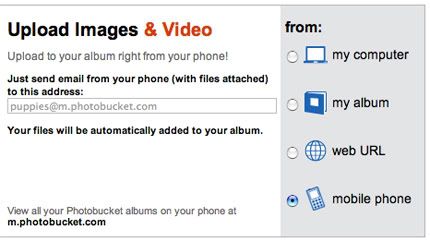 All the same rules apply about approval of the images by the Group Album administrator (if that option has been set).
And you don't have to phone it in. This email address works from
your normal email client too. Just attach the photo to the email and
send it in!
By the way, this feature works for all albums on Photobucket, not
just Group Albums. Personal ones too. If you want to learn more about
how to upload from a mobile phone, read this Tutorial.