New look Photobucket albums released today — re-designed to help you get things done quickly, and incorporating many great ideas you have given us. It may take a few minutes to get used to the new layout, but once you do, we are sure you'll love it as much as we do.
New Navigation Bar
Look at the top of your album to find the "Action navigation bar." The choices direct you to create slideshows, remixes, and avatars in your account, which you can then share with your friends or publish to your profile or blog.
View by Media Type
You can now view your media by "type" with the "Media Filter Bar" right above the contents of your album. Filter by images, videos, remixes, or slideshows.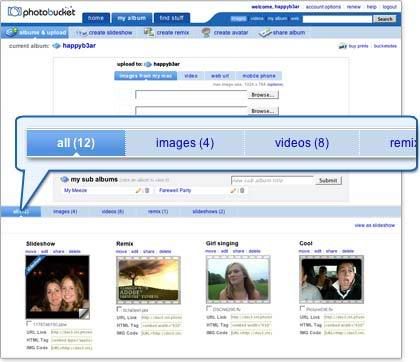 New Look Thumbnails in Albums
Slideshows and remixes have a little label that makes them easy to spot. Clicking on a slideshow or remix thumbnail takes you directly to the edit area for that media type.
Tell us what you think!
Let us know what you think of these latest updates by dropping us a line in the comments or an email to pbfeedback@photobucket.com. All problems or support questions should go to the Forums or support.
As always, thanks for all the great support and feedback you give us. We really listen to it all.