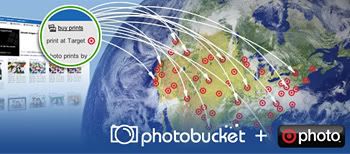 Pick up prints at Target®, or have them mailed to you
Now you can print from Photobucket, and pick up your prints at any of the more than 1,600 Target® stores around the US.
When you click on 'buy prints' in Photobucket, you are given a choice: either print to Target, or have your prints (and other kinds of photo goods) mailed to you at home from our trusty online photo store.
For our customers outside the US
The online photo store, powered by our friends at QOOP, is your only choice. QOOP ships pretty much anywhere in the world on our behalf, and they do a mighty fine job.
We hope you enjoy the added convenience of picking up your prints at Target.