Today we're featuring two special albums: one for McCain supporters, and one for Obama supporters. In addition, we've added some neat lapel pins and 'lawn signs' in our image editor that you can use to enhance your own pictures.
http://photobucket.com/mccain_08 and
http://photobucket.com/obama_08
So check out the albums and upload a pic of yourself declaring your support for your candidate!
(You need to have a Photobucket account to add a pic or video to a group album. To read more about it, see these blog posts.)
Click "Edit" next to any image of yourself. This launches the Photobucket image editor. Click on Decorate, then Stickers and you'll see all the stickers available: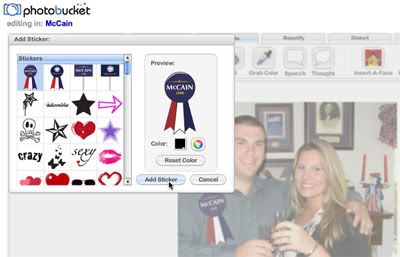 You can add both lapel stickers, lawn signs, and other text if you want:
Are you a political activist with a Web site or blog?
Then be sure to add a link to these group albums on your blog or Web site. Get your supporters to show themselves in the group albums. Just add one of these links below, and we'll do the rest:
http://photobucket.com/mccain_08 or