Update as of 10pm PST: Channel on Photobucket is now live and working: go to http://photobucket.com/digg. Let's see what you digg on Photobucket!
We're announcing today a very special integration for Photobucket — with the popular community site Digg at http://digg.com.
As part of this integration, the following new features are being added to Photobucket:
Photobucket Digg buttons — Digg buttons will be added to all photos in the public "Find Stuff" tab (http://photobucket.com/findstuff) on Photobucket, allowing Photobucket members to submit content to Digg.
A Digg Channel on Photobucket — A dedicated Digg channel will be added today under a "Popular" section within the "Find Stuff" tab on Photobucket. "Popular" will rank the most "Dugg" Photobucket images.
Photobucket on Digg — the Digg site will link back to Photobucket's Digg channel, to display the most popular images as voted by the Digg community.
Digg is also making their own announcement today of a dedicated photos section of their site. We're delighted to be part of this announcement.
The Digg Channel on Photobucket
Click on "Find Stuff" in Photobucket's top blue bar. Underneath "Find Stuff" you'll see a new category called "Popular". You'll find the most popular images there. http://photobucket.com/digg.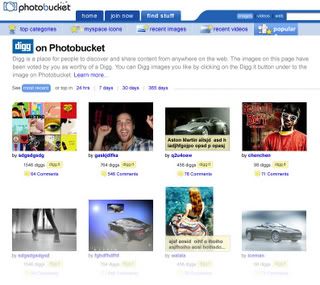 New to Digg?
If you haven't used Digg before, you'll have to register. But it's quick and easy. And once you have, Digg your favorite images on Photobucket. They'll bubble to the top of the Photobucket Digg Channel (if other Photobucket members agree with your choice!).
We're looking forward to seeing how you Digg, what you Digg, and what you think of this feature. So, as always, let us know through our feedback email pbfeedback@photobucket.com.