In January 2009, Photobucket was selected as the official selected as the online photo destination for the Barack Obama 2009 Presidential Inaugural Book. Photobucket users were invited to submit their photographic experience of the Inauguration to a special Group Album on Photobucket, and thousands did so.
The producers of the Presidential Inaugural Book then selected 12 photographs from the thousands submitted, and included those photos in the large-format coffee table book that will represent the official commemorative Inauguration book. The book can be ordered here: http://obamaphotobook.com/photobucket.
This blog post shows the photos selected for inclusion and tells a short story about each.
---
Tears of Joy by Bryan Dozier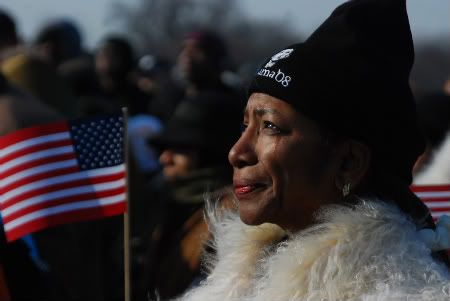 "With roughly 1 million other people, I braved the frigid temperatures on the morning of January 20, 2009 to witness history first-hand. I saddled up beneath a Jumbotron next to the Washington Monument on the south end of the National Mall and captured the faces of people looking not only to the screen, but to the future. Tears of Joy is about a woman whose face and tears encapsulate the emotions of so many that day."
Bryan Dozier is a freelance photographer from Washington, DC. (www.bryandozier.com)
---
Zoe at the Inauguration by Alex Pascover
"When my daughter was born in late 2007 I knew it was time to get serious about the direction of our country. Health care, climate change, America's standing in the world — it is her generation that will deal with the consequences of our choices. During the campaign my wife Kathy and I volunteered for Senator Obama while Zoe toddled around the office. Now she can tell her grandkids not only that she helped make Obama president, she was there when it happened."
Alex Pascover is a lawyer living outside Washington, D.C. His photos never come out this well.
---
The Honor Guard by Marta Evry
"My name is Marta Evry, and I make my living as a film editor for movies and TV in Los Angeles. I was a volunteer Regional Field Organizer for the Obama campaign, where I was responsible for organizing phone banks for my Congressional District. By Election Day, we had over 1,500 volunteers who made over 600,000 phone calls to "swing states" all over the country. About the photo: Every four years the United States elects a president, and each time, members of the armed forces have participated in the inaugural events. Military participation dates back to the inauguration of George Washington when, on April 20, 1789, soldiers, local militias and war veterans escorted the president to his swearing-in, then held in New York City. The outstanding Soldiers, Sailors, Air Force Personnel, Marines and Coast Guard Personnel you see in the photo were chosen as ceremonial ushers for the Yellow Section (a seated ticketed section on the Mall about a 100 yards from the Capitol building), where they stood at attention facing President – and away from the 2+ million crowd – as he was sworn in. As I watched these young people serve their country, I couldn't help but think of my own brother-in-law who has served two tours in Iraq. I was as honored and humbled to be in their presence as I was all the members of Congress and our future President."
Marta Evry was born and raised in Washington D.C., and now lives in Los Angeles, California.
---
A Great Day for Murray Rosenbaum by Steve Rosenbaum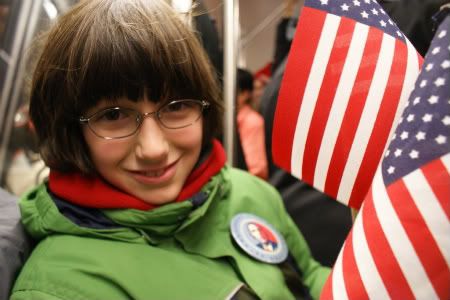 "My name is Murray Rosenbaum, and I'm 11 years old. In this picture, it is close to 8pm January 20th and I'm riding the Washington Metro. We started the day at four am. We were coming back to the hotel from seeing Barack Obama being inaugurated, being in the biggest crowd of my life, and so much more. During the morning, I was really, really grouchy but, when we got on the National Mall I felt a sudden burst of energy which as you can see in this picture lasted the whole day. Even though we were still almost a mile away, it was such an amazing experience I can't even put it into words. It was a long wait to get to even the metro entrance we had Chinese food for dinner, and after a very nice dinner after a long day we finally got on the train to go back to the relaxing, cozy, and nice hotel. When I saw Barack Obama become President on January 20th close to a million people and I knew that Obama was going to make this country a better place, stop the war in Iraq, and most importantly focusing on us, the citizens of the U.S."
Steve Rosenbaum is a serial Entrepreneur, and his latest company is Magnify.net, a software platform that allows publishers, companies, and individuals to create Curated Video websites. He lives with his wife Pam and his son Murray in New York, NY.
---
Crowds Cheering by Cecilia Costella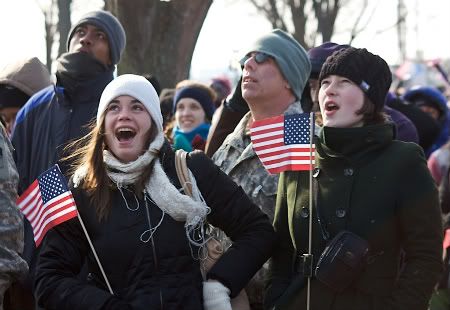 "My friends and I live in DC and we decided were not going to miss Inauguration Day for anything in the world. There were so many people on the streets that day (and we left home so late that morning!) that we had trouble finding a spot to watch the ceremony. I finally settled for a spot under one of the screens on 17th St., which ended up being a great decision, since I could see the expressions on people's faces as they watched the event on the screen. This photo was taken on the very moment Barack Obama finished taking the Oath of Office. It was a moment of joy and celebration; being there, together with other almost two million people, was a unique experience. To me, this picture captures the mood of that moment; just as well as it captures the whole transformation our city went through that joyous week."
Cecilia Costella is a native Argentine who calls Washington, D.C. her second home.
---
"Yes We Did" by Shriya Malhotra
"I took this picture of my friends, Fabiola and Nipin, on the morning of inauguration day. A group of us – including my brother and I – had traveled by bus from NYC the weekend before. We were standing on the National Mall next to the Washington Monument. Crowds were filling the open space, people were singing and cheering, and we had painted our faces to reflect our excitement! The atmosphere was electric and this photograph, to me, captures the celebratory mood that we all shared. D.C. has never felt as exciting or as positively politically charged as right then."
Shriya Malhotra recently completed an M.A. in International Affairs from the New School, New York. She is interested in addressing health, well being and human development through art, photography, and design.
---
Staying Toasty by Sandy Choi
"Truth be told, I hadn't planned on attending Inauguration. Like many D.C. residents, I was wary of the crowds, and besides, it seemed impossible to top the euphoria I felt on election night when thousands of us celebrated in the streets until dawn. Nonetheless, I grabbed my camera bag and ran out the door around 10am. Not long after I reached the Washington Monument, I met these two characters who had been camped out on the ground for hours but were all smiles. I suppose those massive fluffy coats had something to do with it, but there was something about the genuine warmth and joyfulness of their smiles that stayed with me the whole day."
Sandy Choi is a native Chicagoan transplanted to Washington, D.C. by way of Cairo, Egypt.
---
First Ladies by Sandy Choi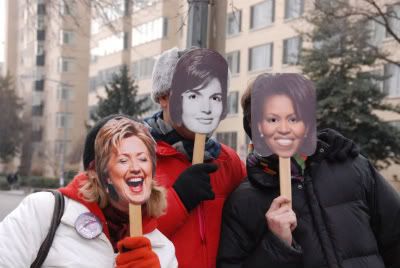 "I thought the crushing crowds would never thin out as I shuffled the mile and a half between the Mall and my apartment. By the time I finally reached my neighborhood near Dupont Circle, the streets were almost empty and oddly quiet. It was the sound of laughter and joking that first brought this happy group to my attention and led to one of my favorite candid moments of the day. They were posing for a friend who was taking their picture, but I couldn't resist leaning in with my own camera. How often do you spot three of our most famous first ladies on the street?"
Sandy Choi is a native Chicagoan transplanted to Washington, D.C. by way of Cairo, Egypt.
---
The Promise of Democracy by Paul Loveland
"We attended the inauguration on the Mall. Our experience was like that of many others: getting up hours before dawn; encountering massive crowds everywhere; enduring hours of bitter cold. Despite all that, the excitement of being part of history was overwhelming. Out of the corner of my eye, I saw the man in the photo climbing onto something to stand above the crowd. As I turned to look, he smiled and raised his arm high. I lifted my camera, adjusted the settings and captured the moment. When I look at this photo, the emotions I felt on the Mall that morning return."
A native of South Dakota, Paul lives in Richmond Virginia with his 18 year old son, John.
---
Times Square New York by Christor Lukawiewicz
"On inauguration day, I decided to hitch a ride with my uncle into New York City to document this historic day. Somebody told me they were going to put the whole ceremony on all the screens in Times Square. I quickly grabbed my camera and ran down to 42nd street. I got there right as it was starting. There was a ton of people cheering every time they showed Obama's face on one of the screens. I must have shot 200 photos in about an hour. Every time I look back at these photos, it puts a smile on my face. I was in the right place at the right time on one of the biggest days in American history.
Christor lives in San Francisco, where he is at college, majoring in photography.
---
Masai Dancers by Ketan Shah
"As a Kenyan student in the United States in the 1980's, I fell in love with your country and all it stands for; so I was excited when Senator Obama, a son of a Kenyan, burst into the American national political scene with his message of inclusiveness and plan to once again restore America's standing in the world. It was wonderful to visit Washington D.C. to celebrate the inauguration with my fellow Kenyans, my American friends and the Masai dancers at a reception hosted by the Kenya Embassy at the Washington Plaza Hotel on the day of the Inauguration. I wanted to reflect the exuberance felt by both Americans and friends of America at this new beginning."
Ketan Shah lives in London, UK and is a Kenyan educated in American Universities, a lifelong friend and student of America and admirer of its fundamental principles of equality and opportunity for all.
---
Emotional Celebrant by Andy Isaacson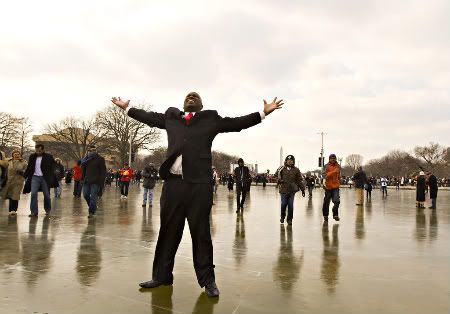 "The hour after the Inauguration was when the massive, collective, and largely faceless movement dissolved into a scene of emoting individuals. The Mall thinned out, leaving characters: a man dressed as Abe Lincoln, posing for photos; a woman carrying a small flag, crying, "don't wake me up from this dream!" People walked up the empty Capitol steps to cherish history. On the icy reflecting pool before the building, spontaneous circle dancing ensued, and nearby, I caught a man with his hands up in the air, facing the building, lost in his own celebration."
Andy Isaacson (www.worldwebeyes.com) is a writer and photographer living in California.
Crowd on the Statue by Christopher Beecroft