Did you know that you can download images to your mobile phone using Photobucket? That's right! Photobucket can send your favorite image as an MMS directly to your cell phone.


It's kind of like adding a ringtone to your phone but instead of an audio clip, it's an image from your Photobucket account that can be made into background wallpaper on your phone! This service is currently only available in the US at this time and we're working to support more service providers and mobile phone models.
Your mobile device must be Internet/WAP enabled with SMS.
$0.99 charge US per use for the Make Mobile service.
A brief FAQ with some images is after the jump. Check it out if you want to know how to take your favorite Photobucket images and customize them before sending them to your mobile phone.
Make Mobile FAQ and Tutorial
Q. Where can I access Make Mobile on Photobucket?
A. You can use Make Mobile on nearly any image from Photobucket. Images that are Make Mobile compatible have a small phone icon next to it that you click on to start the process.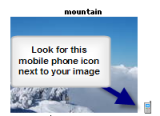 Q. Can I use Make Mobile if I'm not in the U.S.?
A. Make Mobile is currently available only to our users in the U.S. However, we will be expanding the service to other countries soon.
Q. What mobile carriers (phone companies) does Make Mobile support?
A. Currently, Sprint, T-Mobile, Cingular, and Cingular Blue (formerly AT&T) are supported.
Q. What mobile devices (phones) can I use with Make Mobile?
A. Once you select the Make Mobile phone icon, you will be taken to
a page where you can view the mobile devices that are supported with this feature.
Make Mobile Tutorial (computer side)

1.) Find the image you'd like to make mobile and click on the phone icon to begin the Make Mobile process.


2.) The Make Mobile dialogue box will appear. Select the appropriate option for country, device manufacturer, and phone model.
3.) Click "Next" to be taken to the editing screen. Here you can change the size of your image, rotate it, add icons, bubbles, frames, and text. When you have finished customizing your image, click the "SEND" button.
4.) You will be prompted to enter a telephone number and cell phone carrier information. Currently only Sprint, T-Mobile, Cingular, and Cingular Blue (formerly AT&T) are supported.

Please take a few minutes to read the important information on this page!!
5.) This message box informs you that to begin downloading your image, you will receive a message on your cell phone from number "51010." You will be charged $0.99 (USD) on your cell phone bill, for this download. At this time, you can click "ok" to proceed with this download, or "cancel" to back out of the process. If you hit cancel at this time you will not charged for any fees on your cell phone bill.
Make Mobile Tutorial (phone side)
AT&T (Cingular Blue), Cingular, and T-Mobile handsets:
(Refer to the end of tutorial for Sprint handsets)
1. After completing the selection, customization, and sending options from Photobucket.com, you will need to access your mobile device to complete the process. A text message will arrive from Photobucket with further instructions.
2.Reading through the message, you will have several file type options to download the image to your phone. The default format is the best option and is based on the phone manufacturer's specifications for the particular phone model. If for some reason you are having trouble with the default format, try choosing one of the other options supported by your phone.
3. Next,locate a folder on your phone where you would like to save the image to.
4. You will next be prompted to rename the file as it is saved.
5. Next, you will have the option to open your image. Please select Yes at this time so you can
verify that the image download was successful.
6. You will receive a text message from number "51010" with the message, "Your download was completed successfully!" You can now set your phone preferences to display this image as your wallpaper!
Sprint handsets:
1. You will receive a text message on your phone from number "51010." This message includes a URL address that you need to go to via your phone's internet connection.
2. After you have gone to this URL address, your image will start the download process. Sprint will suggest to you that the content may not be trusted, but simply click on Continue.