Since launching our scrapbook integration with Scrapblog in August, hundreds of thousands of scrapbooks have been made on Photobucket.
Now we have worked with Scrapblog to integrate printing as well. Our friends at Scrapblog provided us boxes of samples of the kinds of books and cards they print, and they are, well, fabulous!
Print Cards With Scrapblog Designs
We are excited about the cards you can print on Scrapblog. Using Scrapblog's top quality designs, you can drag and drop your own images into the pre-built layouts, and print up cards that are much, much better than your regular "stick a photo in a designed border" holiday greeting card. These cards will make your holiday greetings really look amazing!


Print greeting cards on Scrapblog
Print Memory Books with Scrapblog
Of course the traditional perception of scrapbooks is memory books. But forget the stickers, scissors and glue. (Who the heck has time for that anyway?) Just drag and drop photos and images into Scrapblog's pre-built designs, and print them out. They will look gorgeous!


Print memory books on Scrapblog
Lots of Holiday Designs
There are plenty of holiday designs to choose from. They make great inexpensive and beautifully personal gifts.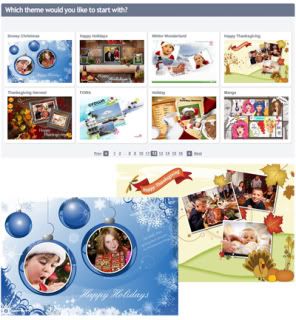 Lots of holiday designs for cards and books