We launched our new Organizer on Photobucket a couple of weeks ago. It came out at the same time as our fabulous new Themes feature. So we wanted to make sure you didn't miss the Organizer!
Getting Organized without Stressing!
To celebrate the Organizer, we put together these tips for started to get your photo and video collection organized. Everyone is different. Choose a method that works for your style, build a routine, and get going. Procrastination only makes it worse, and as Henry James said "Nothing is so fatiguing as the eternal hanging on of an uncompleted task."
1. Set achievable goals
You can't fix the problem by next Monday. So set aside an hour or
two every weekend. Invite a friend and turn it into a sociable event.
Play music while working. Or listen to an interesting podcast. If your
project involves lots of "stuff," find a location where you can leave
the project out, and come back to it later.
2. Keep only the best photos
Immediately delete any photos or videos that aren't great quality,
and if you have multiple photos of the same thing, keep only one or
two. Delete poor quality photos and videos as soon as they are taken.
Too many photos leads to being overwhelmed, so when it doubt, toss it
out!
3. Transfer to your hard disk, and upload as soon as you can
This can be made easy with products like Eye-Fi (http://www.eye.fi),
which is an SD card for your camera that immediately transfers to
your hard disk, and to Photobucket too if you want, as soon as you walk
in the house — no plugging in required! It will even upload for you at wi-fi "Hot Spots" when you're out an about, and in places like McDonalds. There's nothing cooler than taking a photo and knowing that it's uploading as you're walking around town with your cup of Joe. Got to the Eye-Fi site for all the details.
4. Create a well-organized system on your hard disk, and inside Photobucket
Choose a system that works for you, and stick to it! For example,
choose date or subject; e.g. a folder for the year, and then another
for season (winter, spring, summer, fall) and then organize by month or
event.
In Photobucket's new Organizer,
you can automatically organize by date, title or filename. Or you can
organize in precisely your own preferred order. And you can have as
many folders inside your account as you want to keep things just where
you want them.
If you can, name your JPGs and movie files in a meaningful way, with
date, and subject (e.g. soccer_sophie_01_oct2008.jpg) or organize with
the date in a consistent format, and you can sort by date (e.g.
2008_10_01_soccer_party.jpg). You can use Photobucket's search command
to search for files inside your album, so this is a good way to find
things quickly.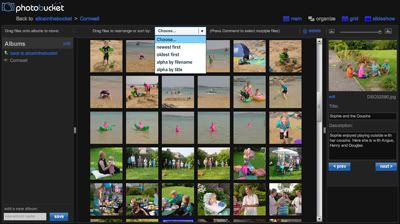 5. Consider getting a small, external hard disk drive for local storage
There are many drives that are small in size, but huge in capacity.
They connect to your USB drive, and are a great way to archive. If
you're super tech'y, and you have more than one family member taking
photos, then network the hard drive so you can all archive in one place
and use the same archival methodology.
6. Always store backups on CDs, as well as online — computer storage is totally fallible.
Save your images to CD regularly — avoid hard disk failure. There
are good quality "archival" CDs available now, with a long life, which
you should label with a gentle, Sharpie style pen and store in jewel
cases or in soft envelopes, without touching one another to ensure they
don't scratch each other.
Of course you should also move your precious memories to
Photobucket; not only is that a great way to share, but it also allows
you to ensure you have a secure off-site backup for your precious
photos should anything happen to your hard disk or CDs. Photobucket
will also provide you a CD backup of your online repository if you
want. Visit our store for more details.
7. Move the best online for sharing
When uploading to Photobucket, take the time to title and describe — we make it easy to do title, describe and tag in bulk on Photobucket — so you can use the built-in search to find your images or videos by subject.
Use the same file organization system for your online albums as you
do for your albums on your hard disk — it's simple to move them over in
the same folder structure using Photobucket's bulk uploader.
Photobucket does not require that you make purchases, or visit, to
keep your account active. We will periodically check with you to ensure
that you want to keep your account active.
8. Order prints, and make beautiful printed books!
You can obviously get prints, in any size, of anything you upload to
Photobucket shipped to you in a couple or three days, or pick up in an
hour at a local Target store (US customers only). Visit our store for more details.
Don't want to build photo albums with scissors, glue, and pens? Then
get a book printed! We are partnered with great services – from our
own built-in store powered by QOOP to specialty printers like Scrapblog, Blurb and Albelli for creating really beautiful and unique books.
Sitting together around a printed book, or giving a printed book as a gift, is a wonderful experience.
9. Think beyond photos from your camera
You don't have to just have photos online. Simple scanners are
inexpensive and can be used to scan interesting documents, keepsake
artwork from your children, or love notes from your BFF.
Once you scan your treasures, you can upload them to Photobucket and
share them just as you would any photo taken with your digital camera.
Photobucket has built-in scrapbooking powered by Scrapblog, to let you take all those images and turn them into a printed keepsake book.
And what about videos? Almost all the latest cameras have a video
setting. Get those online too. It's absolutely the only way to share
this type of media with others. Photobucket can store as many videos as you want (up to 1GB of space in a free account) – each of which can be up to 5 minutes long. If you need more space, our Pro account gives you 10GB of space, and 10 minute long videos.
What about your mobile phone? Sometimes you've caught something
totally memorable — send by email direct to your Photobucket account.
See http://photobucket.com/mobile for "how to" details.
10. Share, share, share
Don't save the best for yourself. After an event where you've taken photos and videos, share those photos and videos afterwards. It's a really nice reminder of a great time.
Record holiday or birthday greetings for friends and family far away
— they can be replayed whenever you want and are the perfect way to
share certain kinds of memories — from your lame karaoke, to your love
message, or your kid's first steps.