Photobucket has been selected as the online photo destination for the Barack Obama 2009 Presidential Inaugural Book.* We are incredibly honored and proud to be part of this moment in history. 
The
2009 Inauguration Book is unlike any other in history. President Obama
wants to include you. Upload your photo showing how you experienced
this historic inauguration. Be sure to add a description to your photo
that tells your personal story.
Make sure your email address is
up-to-date in your Photobucket account, so we can contact you if your
photo is selected for inclusion in the official inauguration book. (You'll find it in your Account Options area.) 
How to upload from your Photobucket album, computer, mobile phone or Web address

You'll need a Photobucket account to upload. It's free to sign up.
(1) Go to the Official 2009 Inaugural group album and click "Add photos and videos to this group"

(2) You'll see a dialog box with choices down the right side. Choose the location of your photo.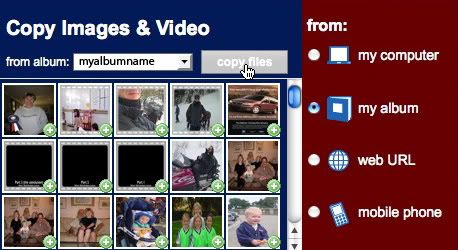 (3) Your photo will upload. You'll see a "pending approval" notice on it until we've checked it out. We'll try to approve photos as quickly as we can.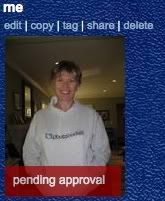 (4) Add a description to your photo! Click on your photo and make sure the description underneath your photo tells your story. A description brings your photo to life.
Upload from your mobile phone
If you send a photo from your mobile phone, email it to obama@m.photobucket.com.  It'll go straight into this album.
Selecting photos for inclusion in the Official Book
When the Inauguration is over, the team of photographers for the Official Barack Obama 2009 Inaugural Book will select photos from this group album for inclusion in the final book.  We'll let you know if you're included, using the email you have on file with Photobucket. So make sure that email is correct. (Go to Account Options.) We'll only connect with you if you are selected.
About the Inaugural Book Project
To learn more about the exciting Inaugural Book Project, go to http://obamaphotobook.com.
Disclaimer