How to store photos in the cloud

By
Karen Burchell
·
2 minute read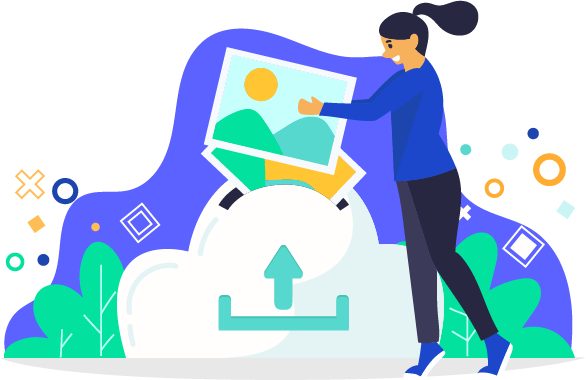 Hello to all the snap-happy people out there! 📸 If you've ever been on the brink of capturing the perfect cat yawn or a gravity-defying pancake flip, only to be met with the tragic "Storage Almost Full" alert, then this one's for you. So, if you're curious about giving your photos a cloud-sized upgrade, and why Photobucket should be in your toolkit when considering how to back up photos, let's get into the nitty-gritty!
1. The Cloud - It's Not Just Fluffy Stuff! ☁️
Despite its whimsical name, cloud storage isn't about stashing pics amidst cumulus or cirrus formations. Think of it as a colossal, invisible backpack, where you can slide all your pictures without them weighing you down.
2. Why You'd Want to Hitch a Ride to Cloud Town:
Bye-bye, Storage Woes: Forget those frantic moments of deleting old pics to make room for new ones.
Anywhere, Anytime: Whether you're climbing a mountain 🏔️ or buried under blankets at 🏠 home, your snaps are within reach.
Safety Net: Dropped your phone in a puddle? Laptop gave up on life? Fear not! Your memories are snug and dry up in the cloud.
3. Photobucket: More Than Just a Cool Name!
Alright, it's shoutout time! Photobucket comes in with style and offers some rockstar features:
User-Friendly Vibes: It's as breezy as pie. Click, upload, and bam! Your photos are enjoying their new airy abode.
Sharing is Caring: Want to flaunt that epic beach backflip? Or maybe your dog's newest outfit? Photobucket makes it easier than buttering toast.
You're the Boss: It's your photo fortress. You decide who gets a peek and who doesn't.
Keep the Quality: Photobucket guarantees that the quality of what you upload and what you download never changes because they don't compress your photos and videos, unlike their competitors who actually charge for compression-free storage. Really? Really!
4. Making Photobucket Your Cloudy Oasis:
Hop Onboard: Saunter over to Photobucket and set up your account. It's like joining an exclusive snap club!
Go on an Upload Spree: Find that upload icon and introduce your pics to their lofty new digs.
Tidy Up Your Sky Space: Sort those pics, label them, sprinkle some descriptions. Organized chaos, here we come!
To Share or Not to Share: Unleash your images to the world, or play it coy. Whatever floats your boat! Photobucket sharing works across iOS and Android.
5. Money Matters: But So Does Peace of Mind!
Photobucket offers one terabyte of photo storage and video storage for only $5 per month, which is one of the best deals out there. And with one terabyte, you can store up to 500,000 photos (based on 2mb per photo size).
6. So, Why Photobucket Really?
Amidst a galaxy of cloud options, Photobucket shines bright for a few reasons:
History and Trust: They've been in the game for over 20 years, which is long enough to know the ins and outs, making them a trusted companion in your photo journey.
Adaptable to Your Pace: Whether you're a casual clicker or a full-blown paparazzo, they have plans to match your rhythm.
To Infinity and Beyond!
Alright, brave explorer, in this wonderful world where every blink, wink, and clink might just be the next photo-worthy moment, the cloud awaits to cradle your memories. And Photobucket? It's your trusty co-pilot, ready to make the journey smooth and delightful.
So, the next time you find yourself amidst an impromptu photo shoot (because let's face it, the world is your runway), you know your snaps have a fluffy, spacious spot waiting just for them.
Sign up with Photobucket, cloud up and carry on, photo warriors! 🌈📷🚀
Until next snap! ✨